Michael E Porter on Strategy
Michael E Porter on Strategy
Michael E. Porter is probably the most respected expert on business strategy and the competitiveness of nations. He is prolific author, having published 18 books and over 125 articles. His ideas, methods and tools are taught in business schools throughout the world.
Michael received an engineering degree from Princeton, an M.B.A. from Harvard, and a PhD in business economics from Harvard. He assists governments throughout the world in economic policy. He is a founding member of the Executive Committee of the Council on Competitiveness, America's leading private-sector competitiveness organization.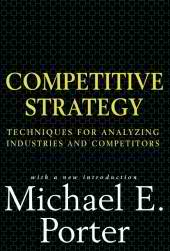 His books include:
Competitive Strategy
Competitive Advantage
On Competition 
Competitive Advantage of Nations
Cases in Competitive Strategy
Competition in Global Industries
Can Japan Compete?
Redefining Health Care
Concepts and Tools Introduced
Key concepts and tools Michael Porter introduced:
Competitive Advantage
Five Forces Analysis
Strategic Groups (An approach that groups companies within an industry with similar business models or strategies.)
Value Chain  Porter describes two different types of business activity - primary and secondary processes:

Primary processes provide direct value to the customers.
Secondary processes support the primary processes (e.g., HR, IT, Accounting).
Organizations should ensure that their processes are integrated and optimized to deliver desired results to customers.
Generic Strategies
Diversification

Organization can spread risk and attain growth by diversification and acquisition. In considering diversification option, Porter recommends three evaluation criteria:

Industry attractiveness: An attractive industry will yield a high return on investment. Customers and suppliers will only have moderate bargaining power and there will be few substitute products. Typically entry barriers will be high in an attractive industry.
Cost-of-entry:Is the cost of entry too high, so a good ROI is impossible?
Better-off: Will the acquisition give an advantage to acquirer or the acquired?

Product Differentiation: The process of distinguishing a product or offering from others, to make it more attractive to a particular target market.
Market Positioning: The process of developing an identity in the minds of their target market for a firm's product.
Global Strategy:  A global strategy should address the following questions:

What must be (versus what is) the extent of market presence in the world's major markets?
How to build the necessary global presence?
What must be (versus what is) the optimal locations around the world for the various value chain activities?
How to run global presence into global competitive advantage?

---
Michael E Porter on Strategy