Strategy Development Tools
Strategy Development Tools
Below are descriptions and/or links to various top strategy development tools:
Core Competence Analysis
Core competencies are those capabilities that are critical to an organization achieving its strategy and winning a competitive advantage.  Learn more 
G.E. / McKinsey Matrix
This is a matrix used to screen portfolios of business units. Both the attractiveness of the industry and the strength of each business unit within the industry is plotted.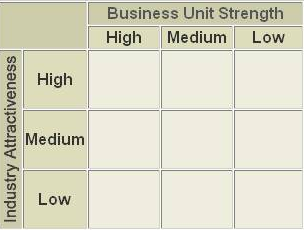 Key Success Factors
These are the few characteristics, conditions, or variables that an organization must excel to be successful.
Good example of key success factors
Logical Framework
Tool for translating your strategy into strategic projects
Marketing Mix Tools
Marketing Mix Tools (4 Ps, 3 Ps, 4 Cs, 7 Cs)
Porter's Five Forces
Porter's five forces, developed by Michael E. Porter, is a framework for analysis and strategy development.
Porter's Generic Strategies
"A firm's relative position within its industry determines whether a firm's profitability is above or below the industry average…There are two basic types of competitive advantage a firm can possess: low cost or differentiation."
PESTLE (Political, Economic, Social, Technological, Legal & Environmental) Analysis
Political factors: areas to focus on include political direction, taxes, trade restrictions
Economic factors: includes GDP, inflation, interest rates, exchange rates and other macro and micro economic factors
Social factors: includes social trends, population growth rate, age distribution, career expectations, etc.
Technology factors: includes equipment, information technology, R&D.
Legal factors: include health, safety, employment, discrimination, consumer and antitrust laws.
Environmental factors: includes weather and climate
Scenario Planning
Scenario planning is a tool used to explore different future alternatives and their possible impacts on the organization. It is an approach intended to help the organization anticipate, strategize and plan for the future.

SPACE Analysis

SPACE analysis is a tool used to determine what type of strategy a company should undertake. The Strategic Position & Action Evaluation (SPACE) matrix a tool that focuses the competitive position of an organization.
SWOT Analysis 
SWOT analysis involves looking at the internal and external factors that can impact the organization in achieving its vision.
Strengths: factors that help the organization
Weaknesses: internal factors that can harm the organization
Opportunities: external factors that can help the organization
Threats: external factors that can damage the organization

Value Chain Analysis

Those strategic activities that an enterprise performs to create valuable products or services for its customers. Click here for more information.

---
Strategy Development Tools